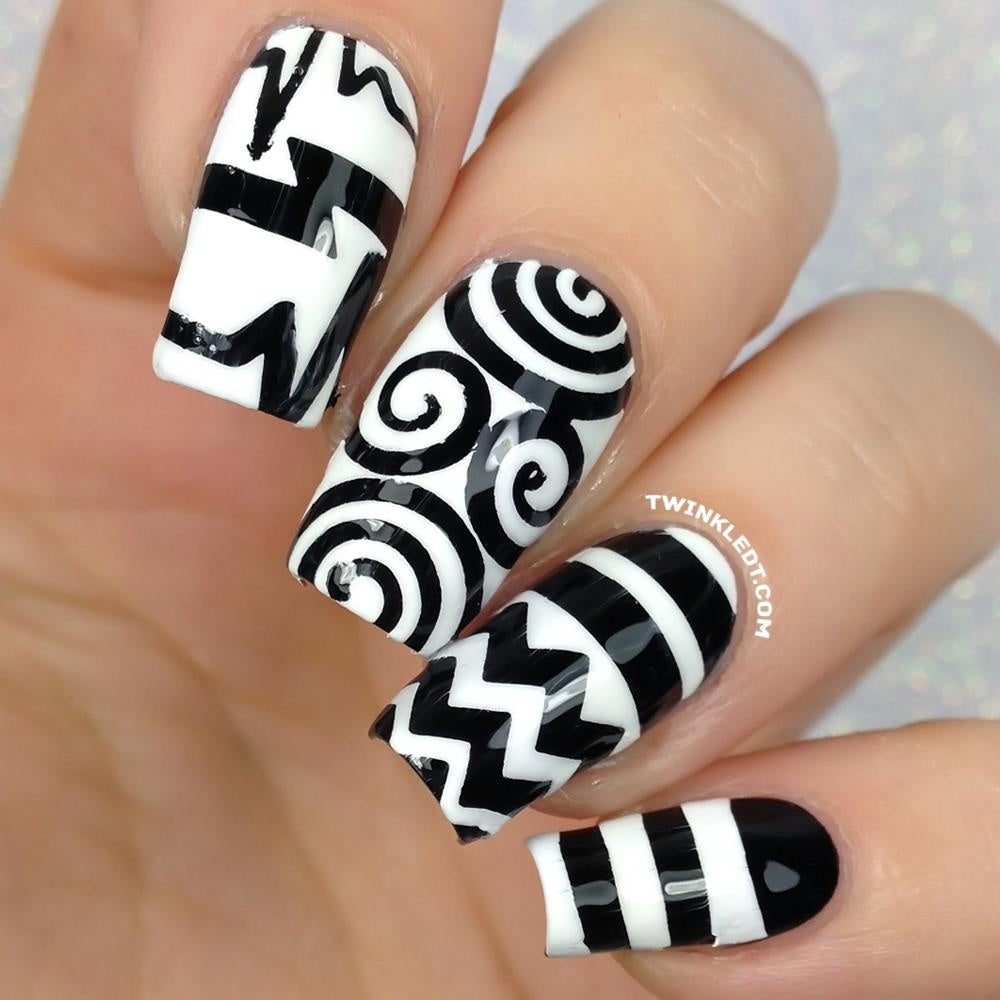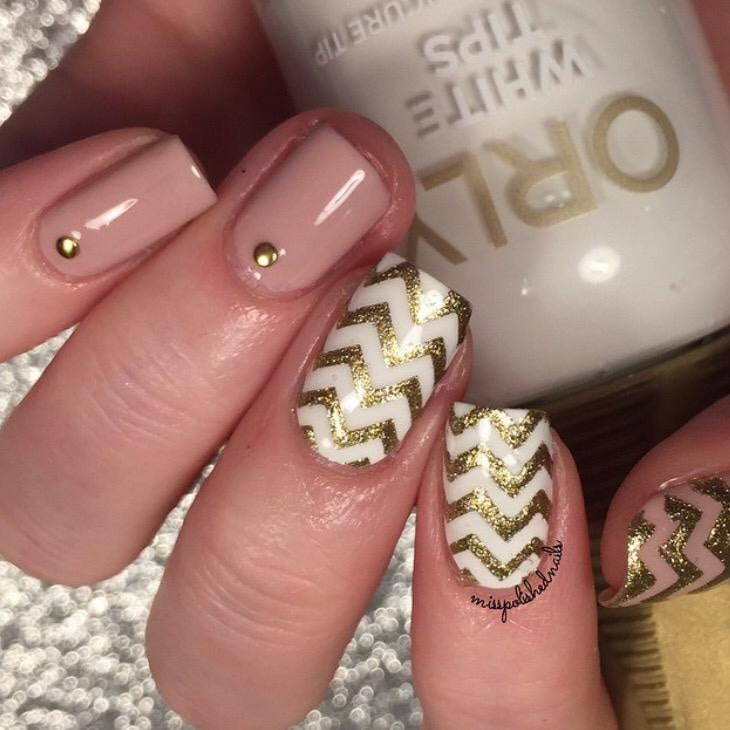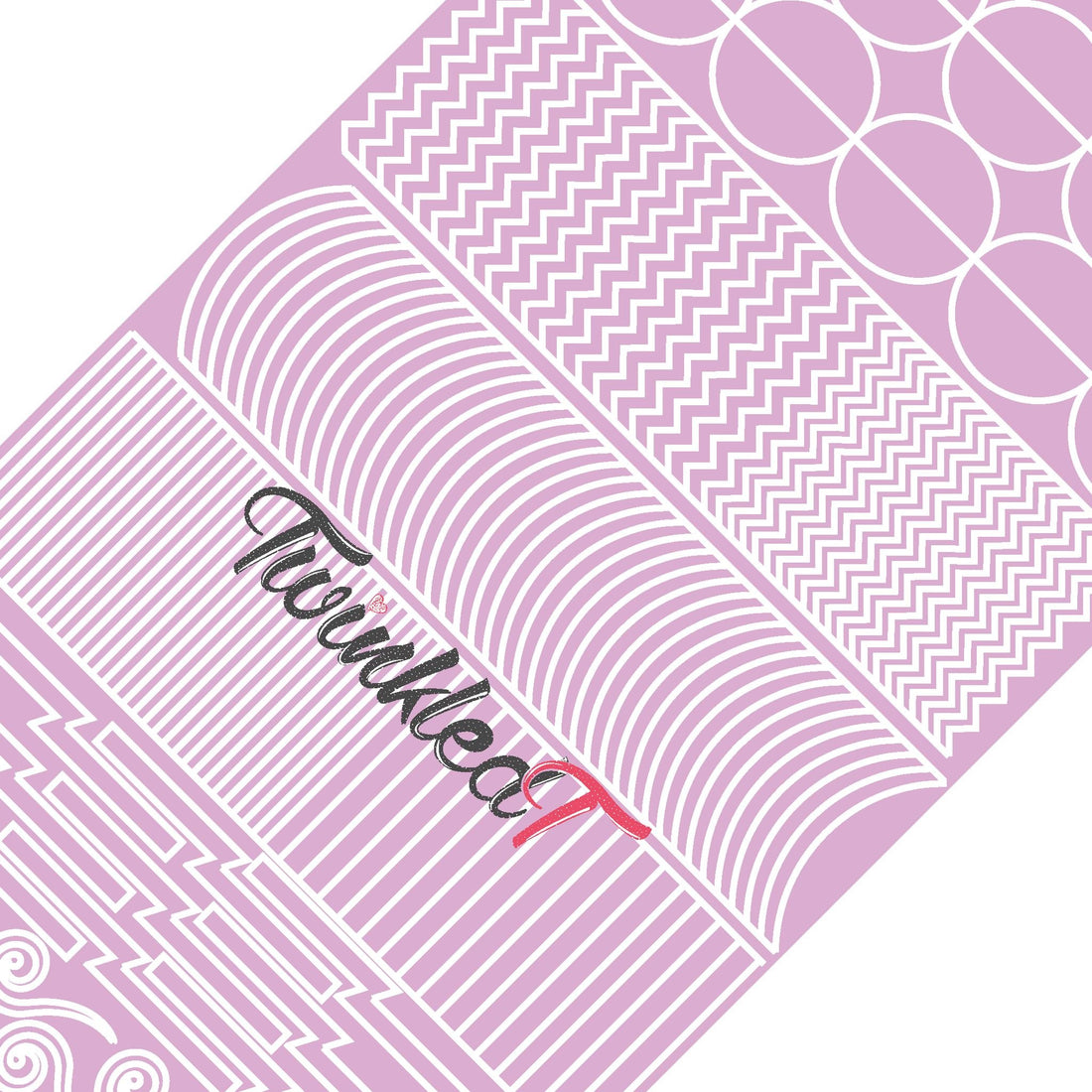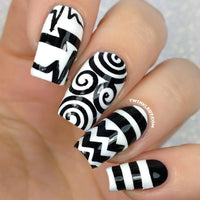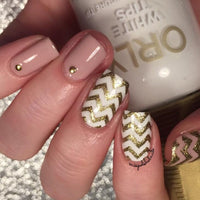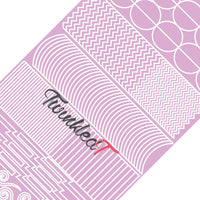 The Twinkled T Variety Vinyl Sheet is your best possible choice if you'd like to try multiple vinyls but want to budget yourself as best as you can!
You will receive the following:
12 Maxi Heartbeats
20 Half Circles
30 Midi Chevrons
19 Skinny Chevrons
40 Slants
32 Skinny Stripes
16 Maxi Stripes
9 Lightning Bolts
20 Swirls
6 Cyclones
All nail vinyls are handmade by the Twinkled T sisters in Los Angeles, CA. We design, print, and cut all our Twinkled T nail vinyls!

Directions
1. Begin by painting your choice of base polish onto your nails.
2. Once thoroughly dried, paint a coat of clear, fast-drying topcoat onto your nails.
3. Once thoroughly dried, use tweezers to lift nail vinyl off its sheet and place onto your nail.
4. Apply your second choice of polish over the nail vinyl.
5. While the nail polish is still wet, remove your nail vinyl from your nail.
6. Add a topcoat and show off your gorgeous new manicure!

Tips
- Your nail vinyl order will include a special Twinkled T packaging to take your nail vinyls on the go!
- Tips and tricks for using nail vinyls can be found here.
- Use tweezers to lift your vinyls. The oils of hands will remove the sticky residue from the vinyl.
- Remove the nail vinyl while the polish is still wet. Once the polish begins to dry, it will create a stringy and clumpy effect of polish when removing the vinyl.

good quality, lots of options
im a beginner at nail art and finding these easy to use and really fun to experiment with, lots of options to try different designs and figure out what type of art I'd like to do more of. a good number of each type, too - enough of the chevrons and french tips etc to do multiple manis.
Absolutely love!!
The vinyls are so easy to use and make doing nail art so much simpler!! I just recently started painting my nails and this product inspires me to go further with what I think I can do!
5 star!!!
This vinyl sheet is perfect if you are beginner. It includes everything you need if it's your first time using nail vinyls. I actually purchased more vinyls after experiencing with this one. My favorite vinyls are the french manicure ones. They come out so so good. I actually bought a second sheet of the same, along with new and different ones. Definitely a winner 🤩
Great!
This was a wonderful purchase! I love my nail vinyls! :) The ladies were wonderful to work with and included a cute little note with my purchase too. Just watch out for the sales around holidays! I bought my vinyls on the day before July 4th when they had a 20% off sale! Shoot! That being said, I never asked if they would honor the sale for me or anything so I don't know what their answer would have been! :) I would definitely purchase from them again. Thank you!
Great sampler
I purchased these as my first attempt at vinyls. It was a great opportunity to try several different kinds and to learn how to use vinyls with.
Let customers speak for us