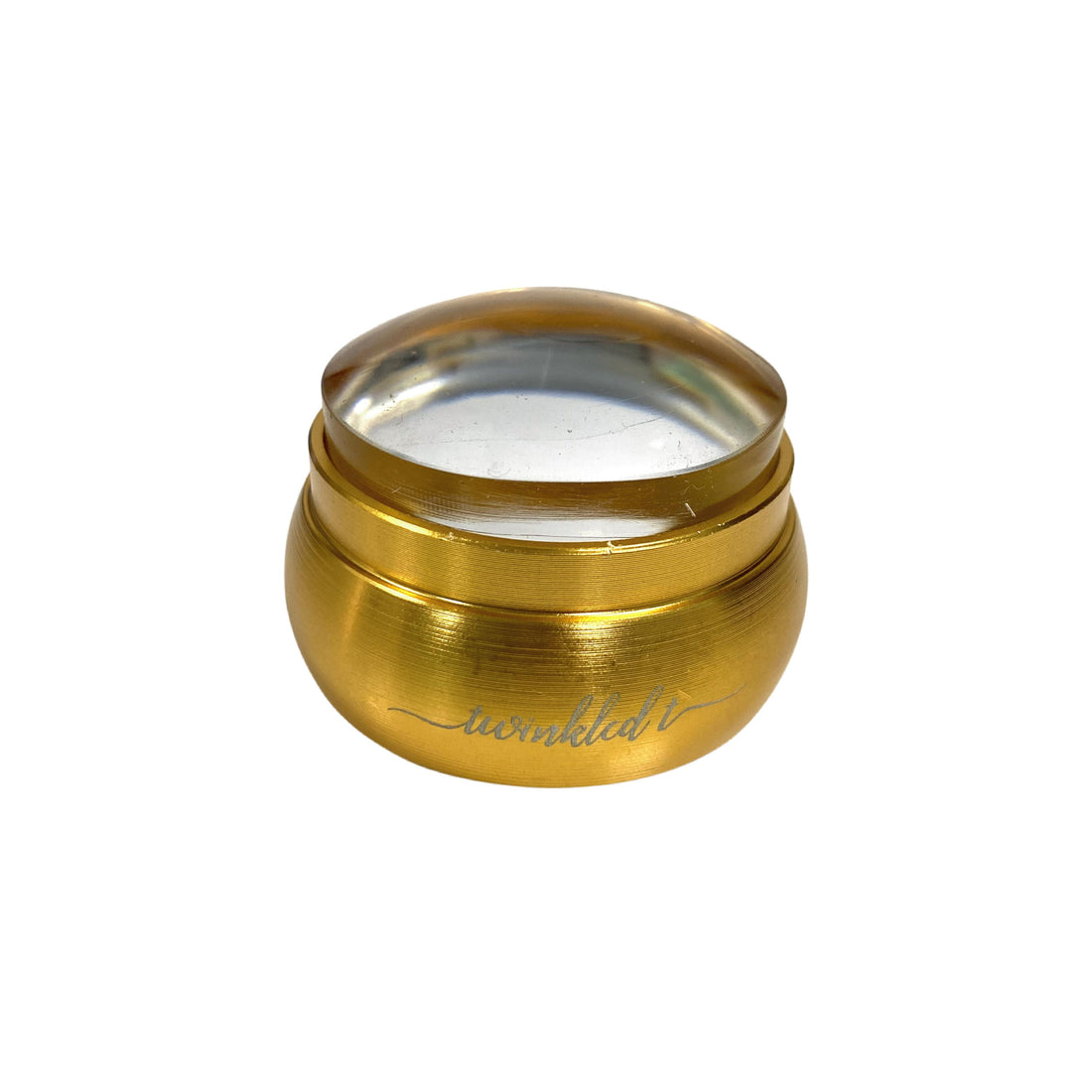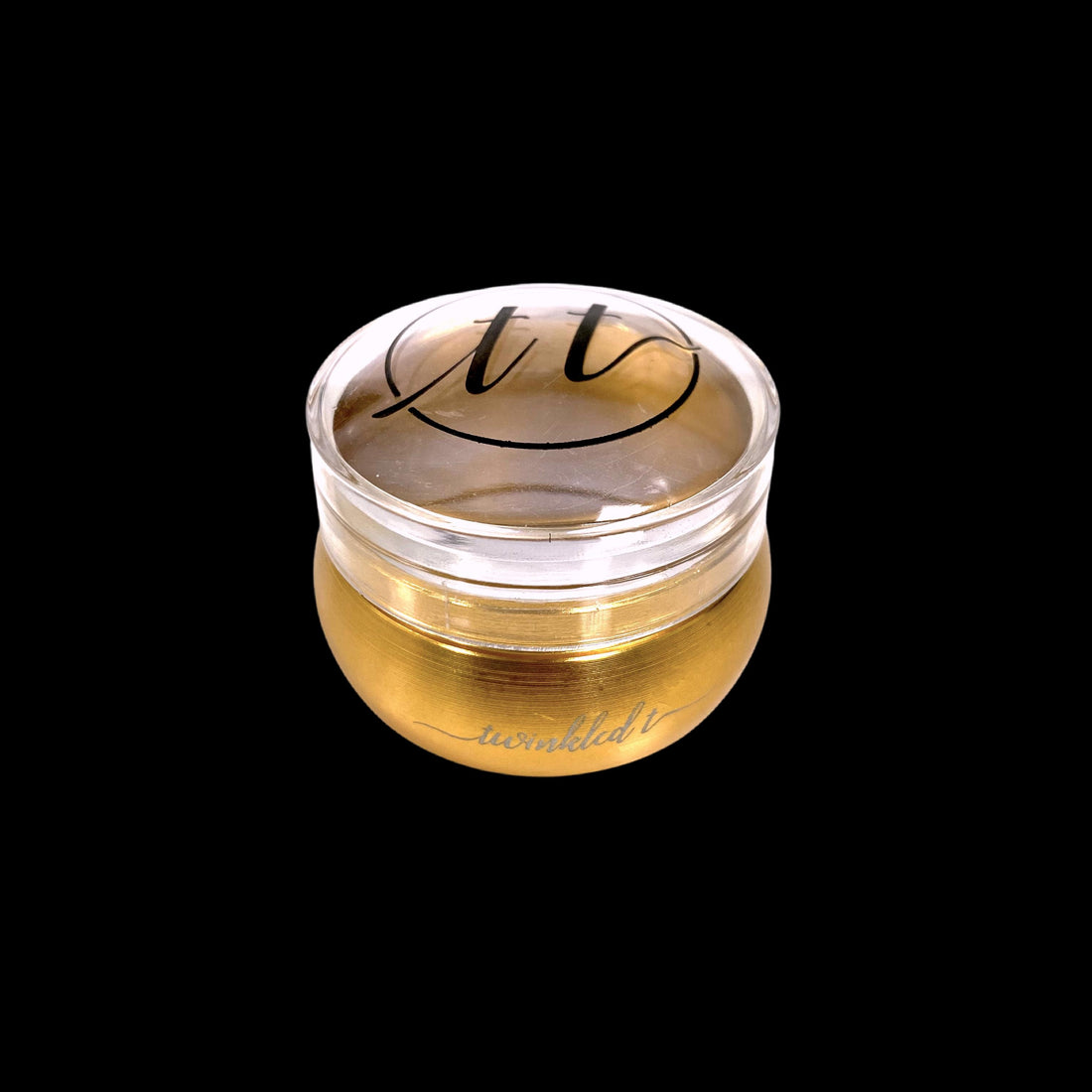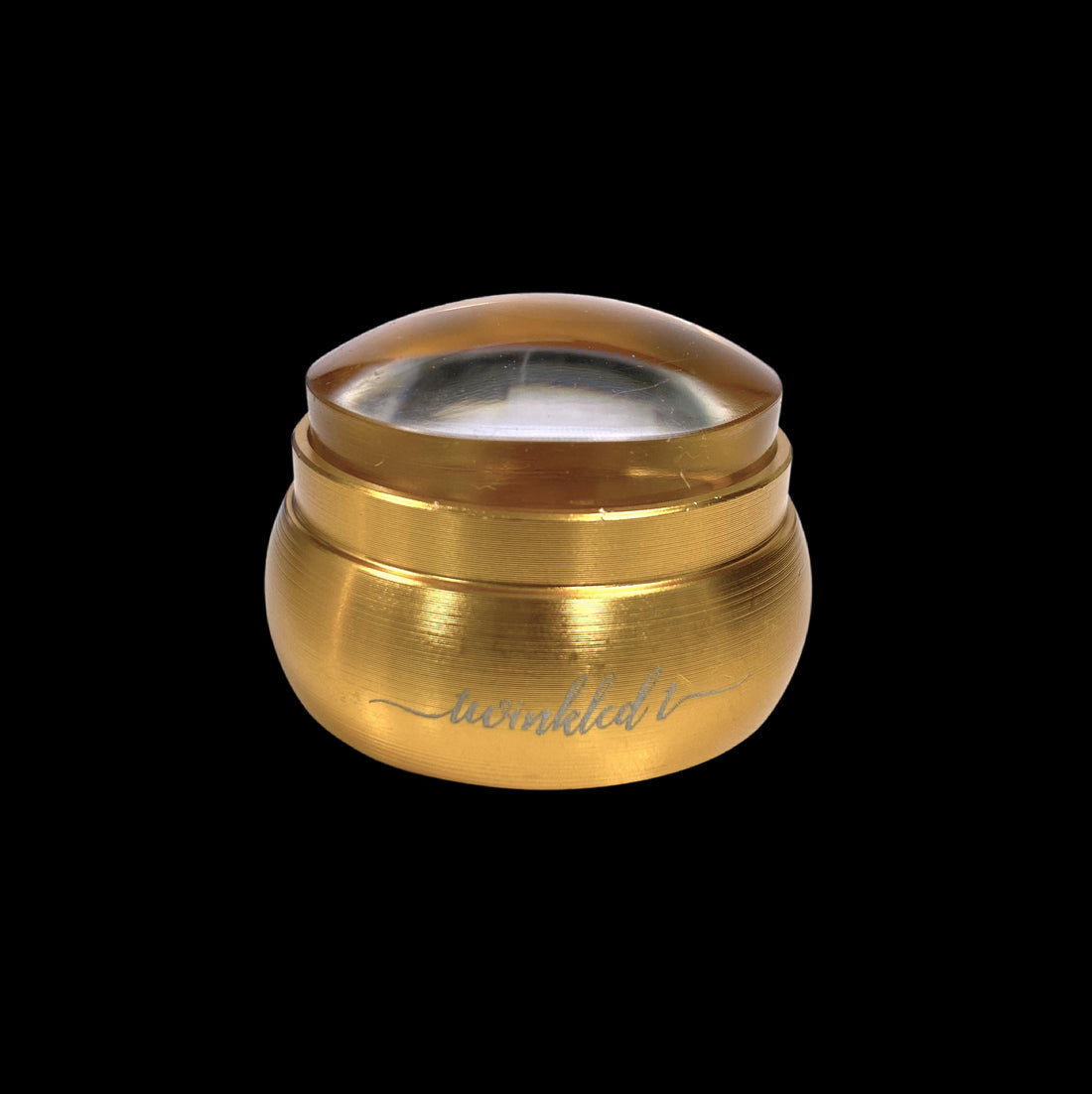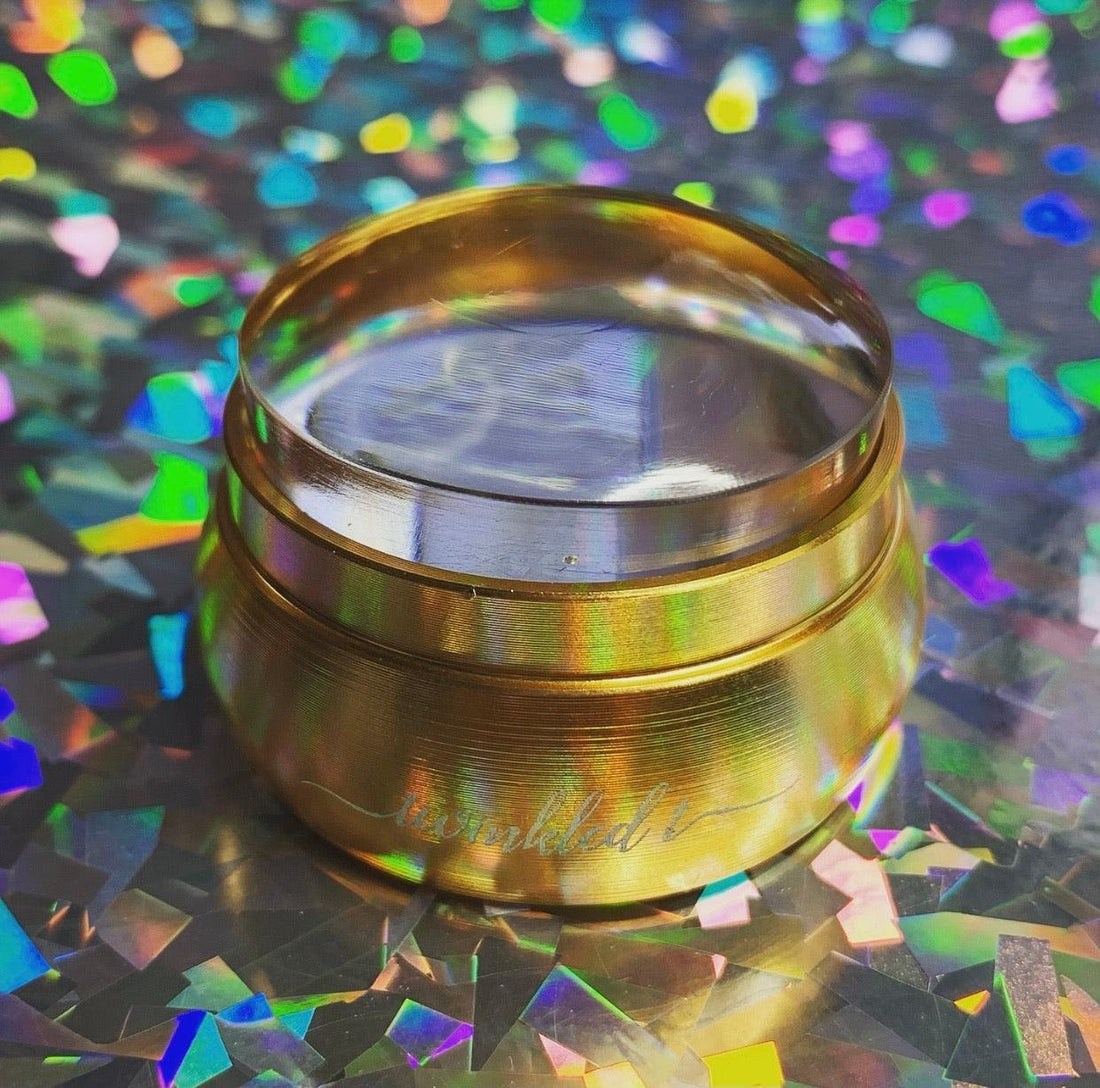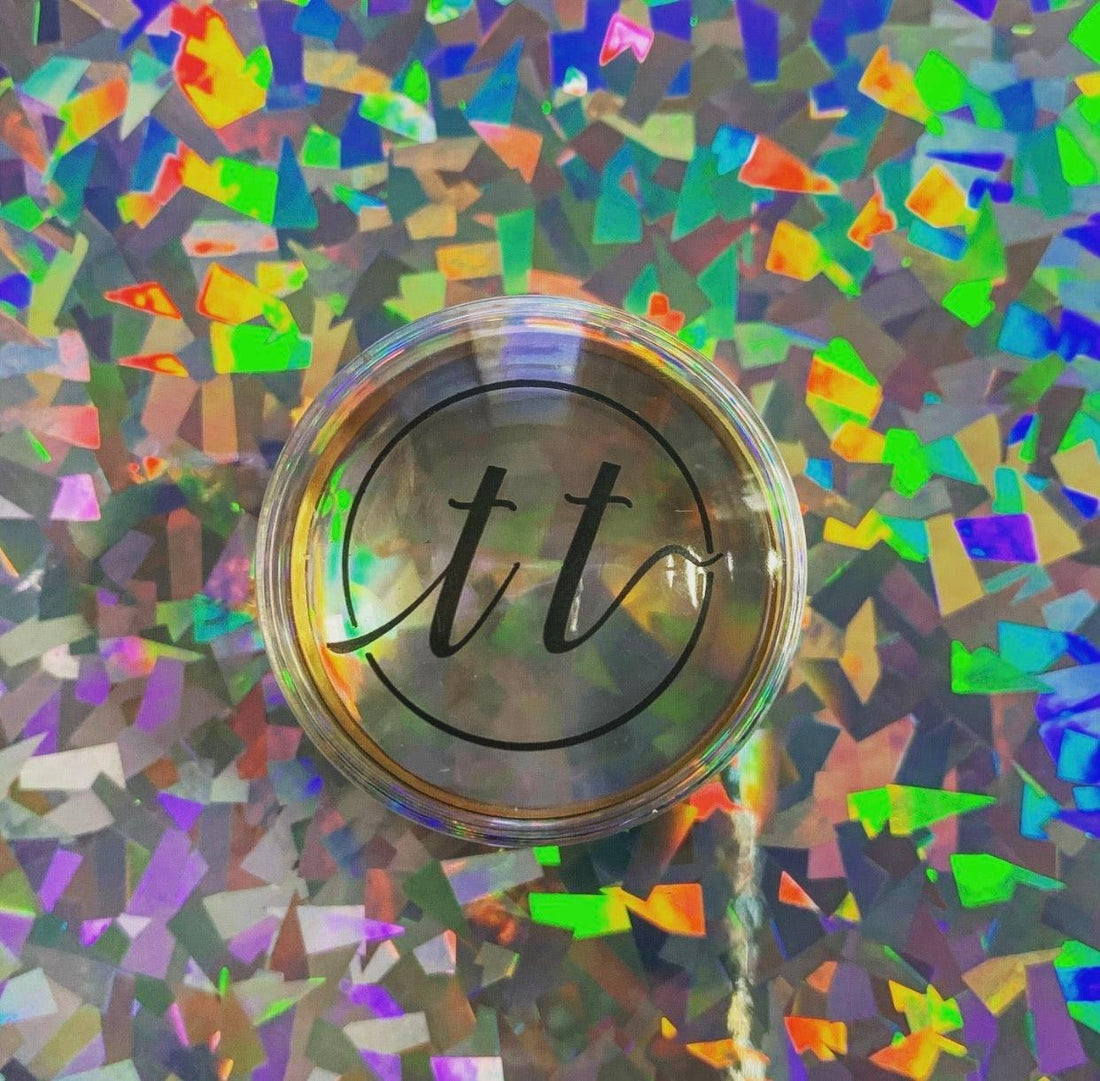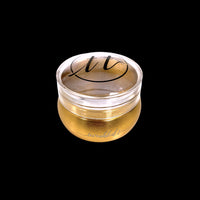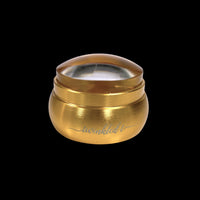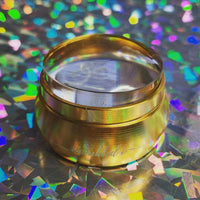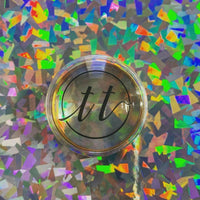 Gold Stainless Steel Clear Stamper & Scraper
Not real gold, but don't we wish! This Gold Stainless Steel Stamper is the perfect size for on the go! It comes with a cap to protect the jelly head, and the handle is resistant to acetone!
1.5 in/ 3.81 cm diameter. 
Height without stamper head- 0.75 in/1.90cm
Weight- 1.3 oz/38 grams
Stamper head size: 1.35 in. For replacement head, click here.
Care
Please keep acetone away from stamper top as exposure to acetone may cause glass to permanently fog. 
Handle with care. Do not prime or sand this stamper. Pinching or pulling the stamper may cause it to tear. The stamper head can easily be cleaned using either acetone and a cotton ball or by gently applying and removing scotch tape directly on the stamper head. Note- when cleaning the stamper head, remove the head from the handle.  
Note: The polish you use is very important when stamping. Please make sure you are using polishes intended for stamping. Stampers will not pick up all polishes.
Directions
Apply nail polish to your nail. Apply a quick dry top coat and wait to dry. 
Apply nail polish to desired design on stamping plate.
Grab your stamper and scraper. Tilting the scraper at a 45 degree angle, scrape the polish across the design quickly and strongly.
Gently press the stamper over the stamping plate with a rolling motion to pick up the design.
Ensure the design is on the stamper.
Stamp the image over your nail with the same gentle rolling motion. NOTE: some have noticed that gently dropping the stamper directly above the image and picking up the image has worked better than the rolling motion.
Apply a quick dry top coat to lock in your design!
The best
I'm very happy with my new gold TT stamper . You have the best nail staff
Thank you
I like it,but…
I like the feel of this stamper. The jelly was perfect. I have two little issues. I wear a med coffin tip that are cut about 1/4 inch, but that's too long to use that stamper, easily. The other issue is, that the plastic bottom sort of pops out a tad. That causes the jelly to sink. So, each stamp I have to adjust the stamper. I have really enjoyed your stuff. Thanks
Very good customer service
Mine came in with the top stuck really hard. After sending the photos of the item the customer service sent a replacement!
Let customers speak for us