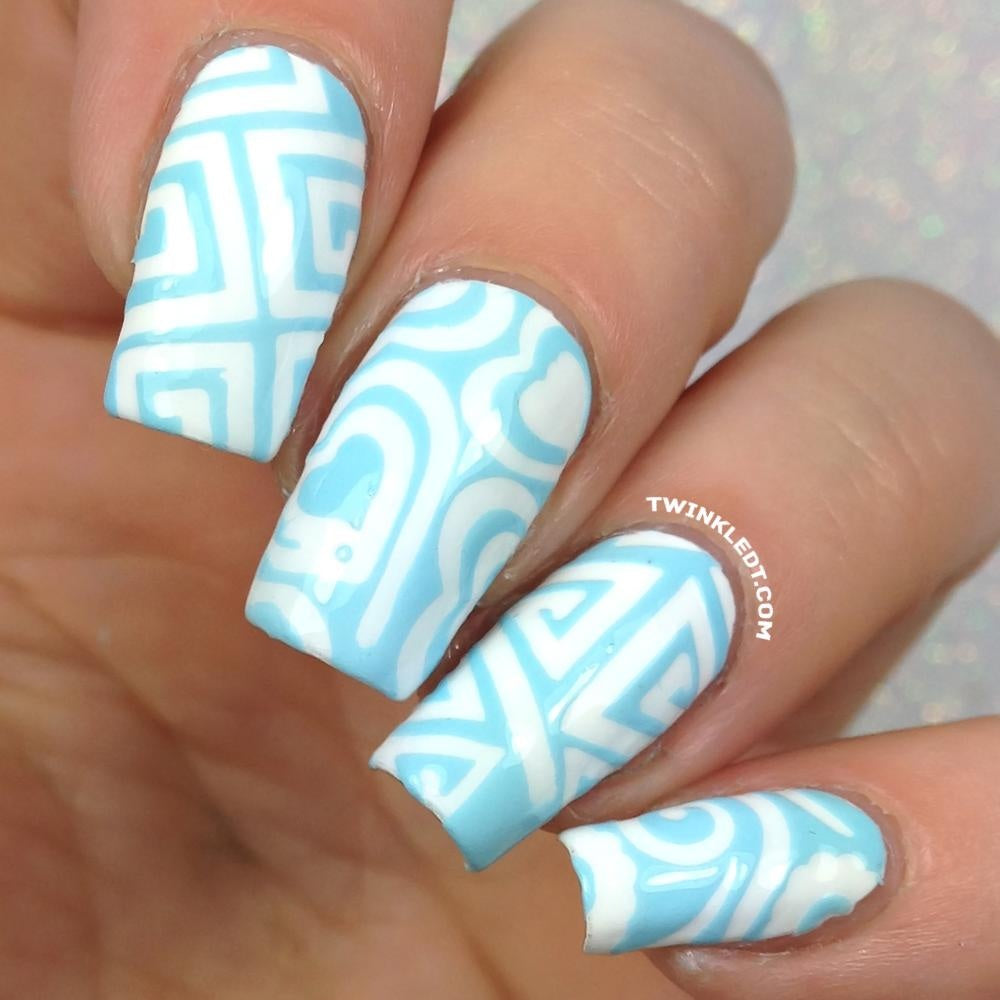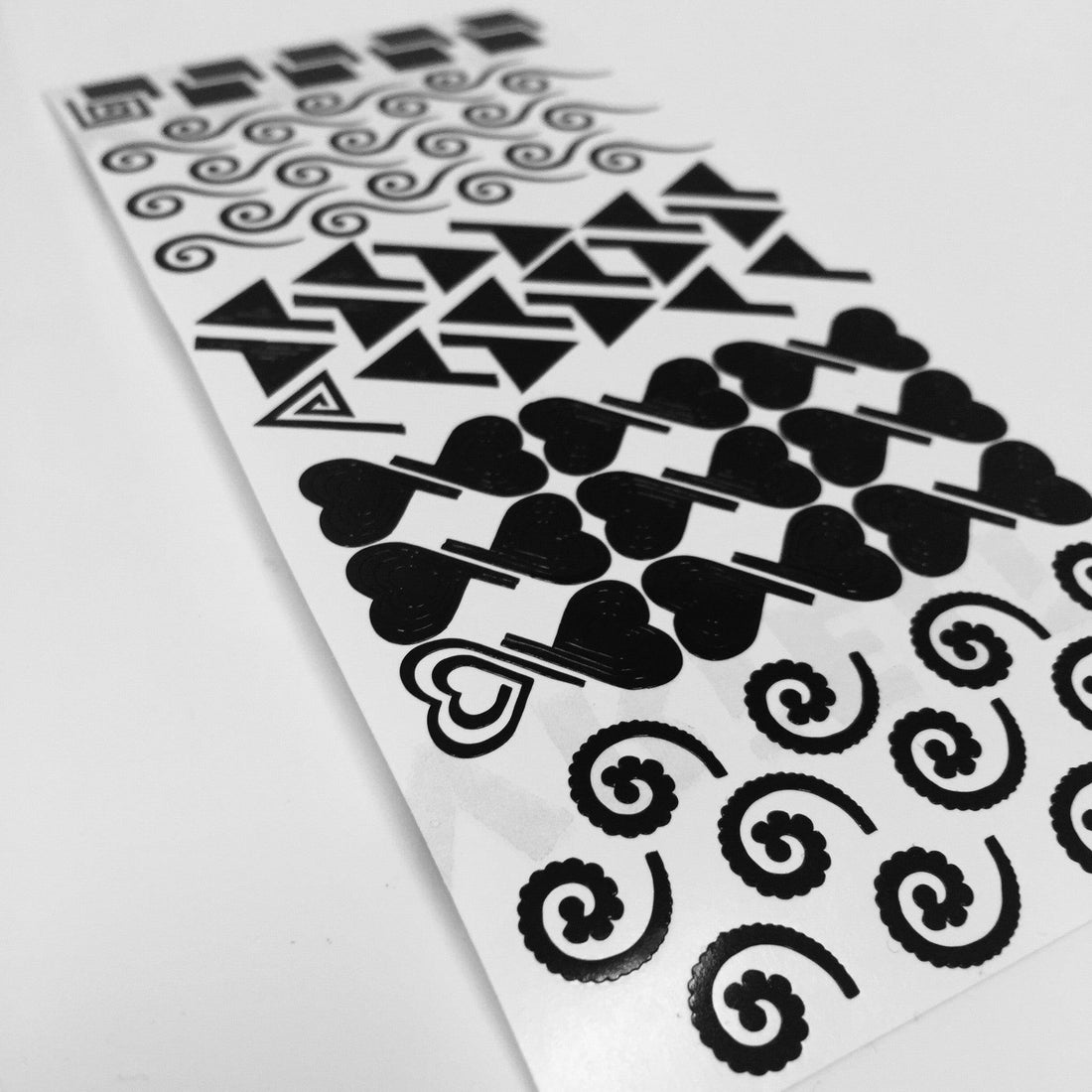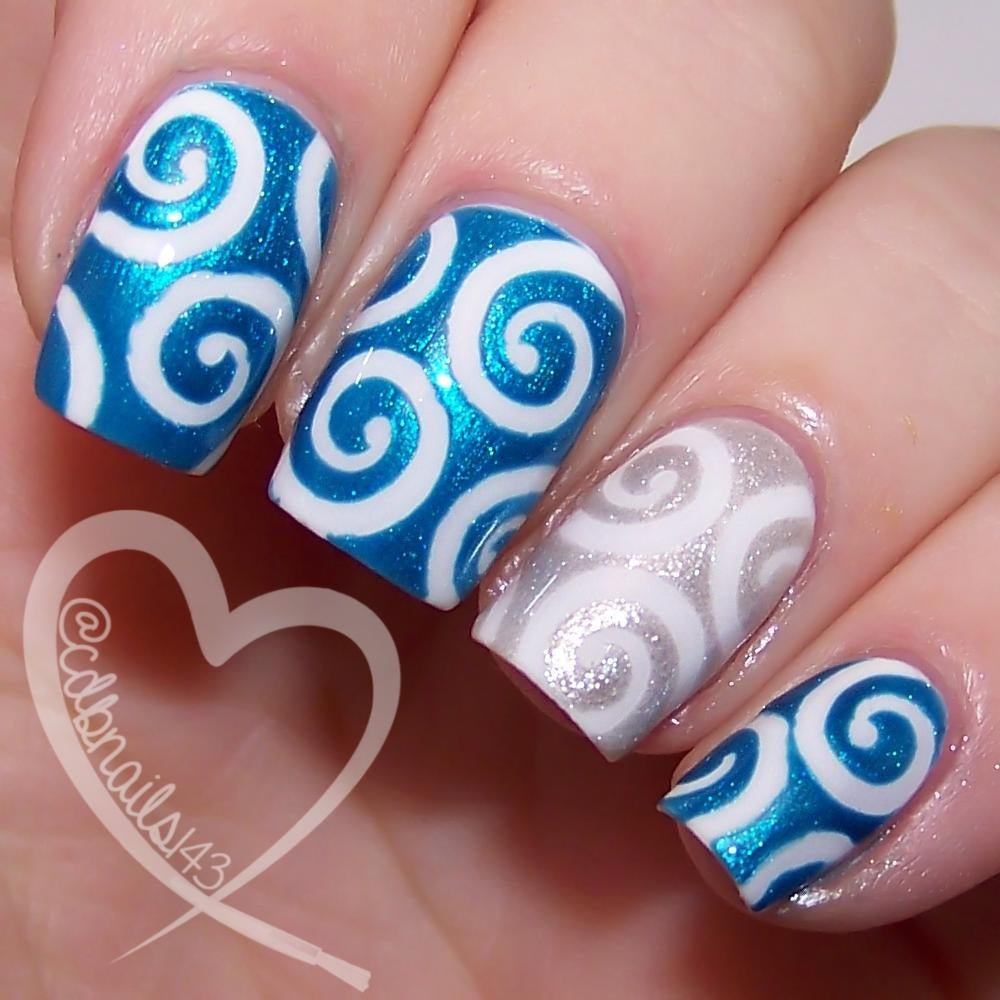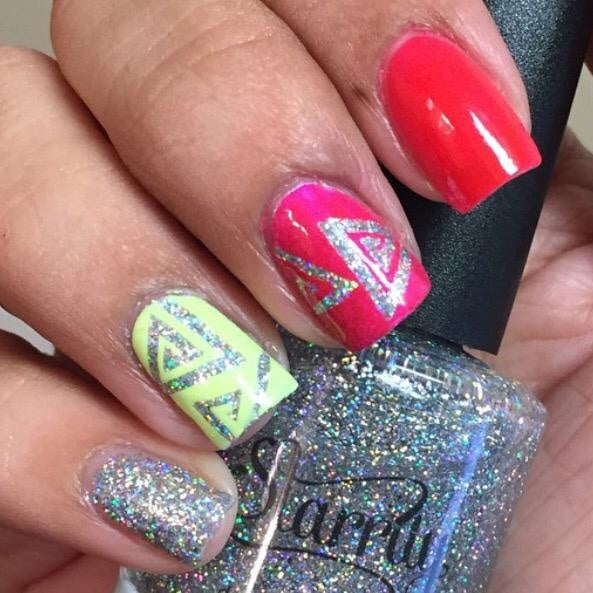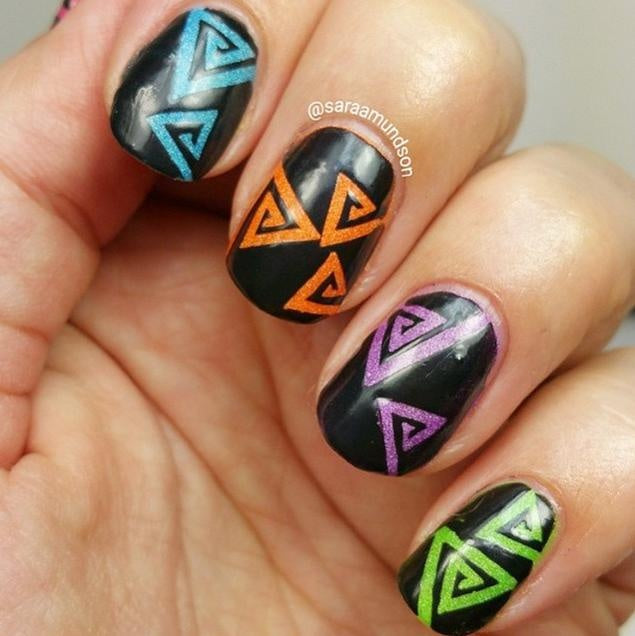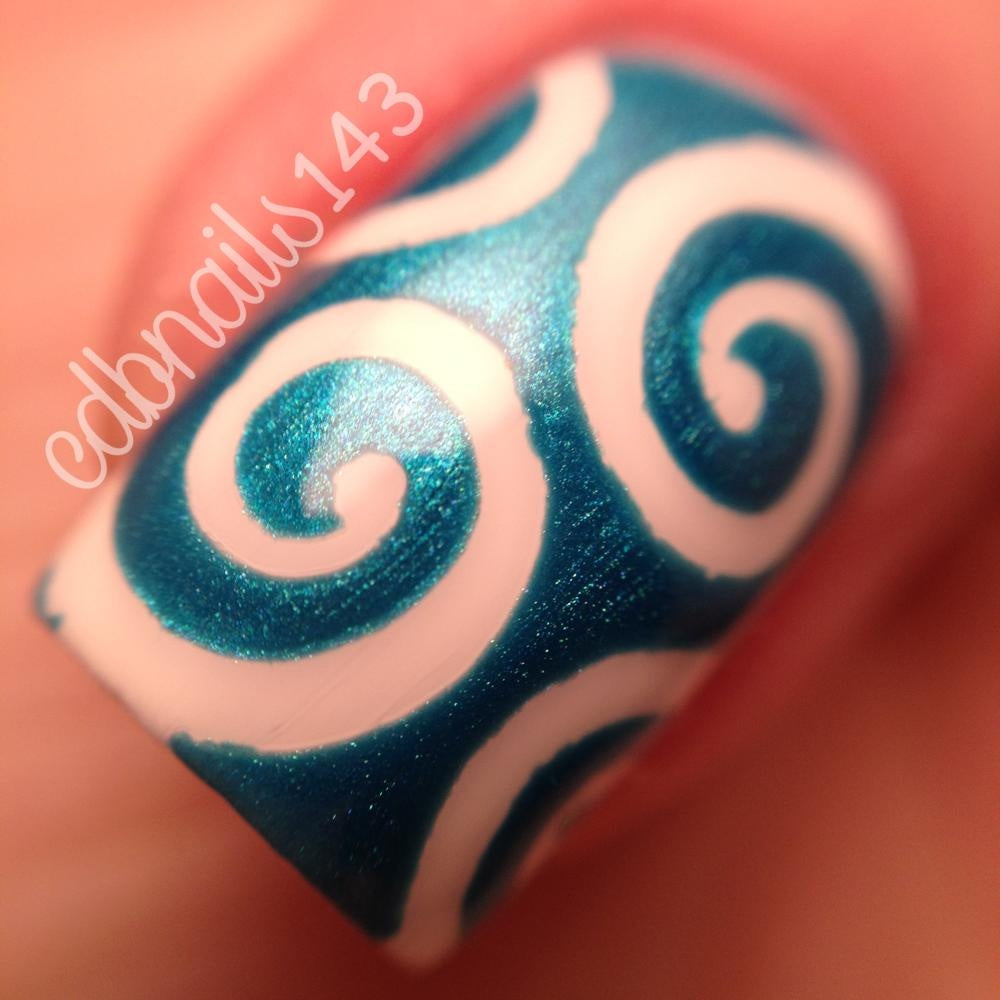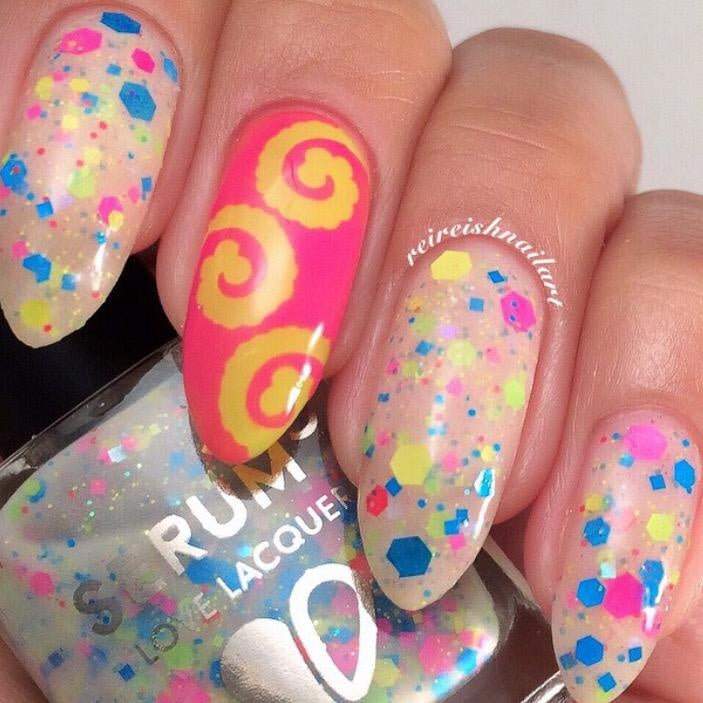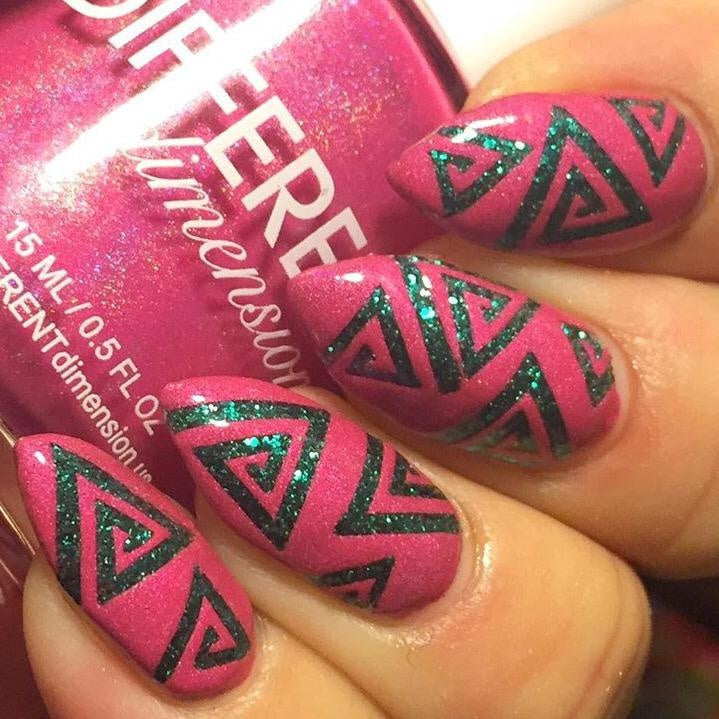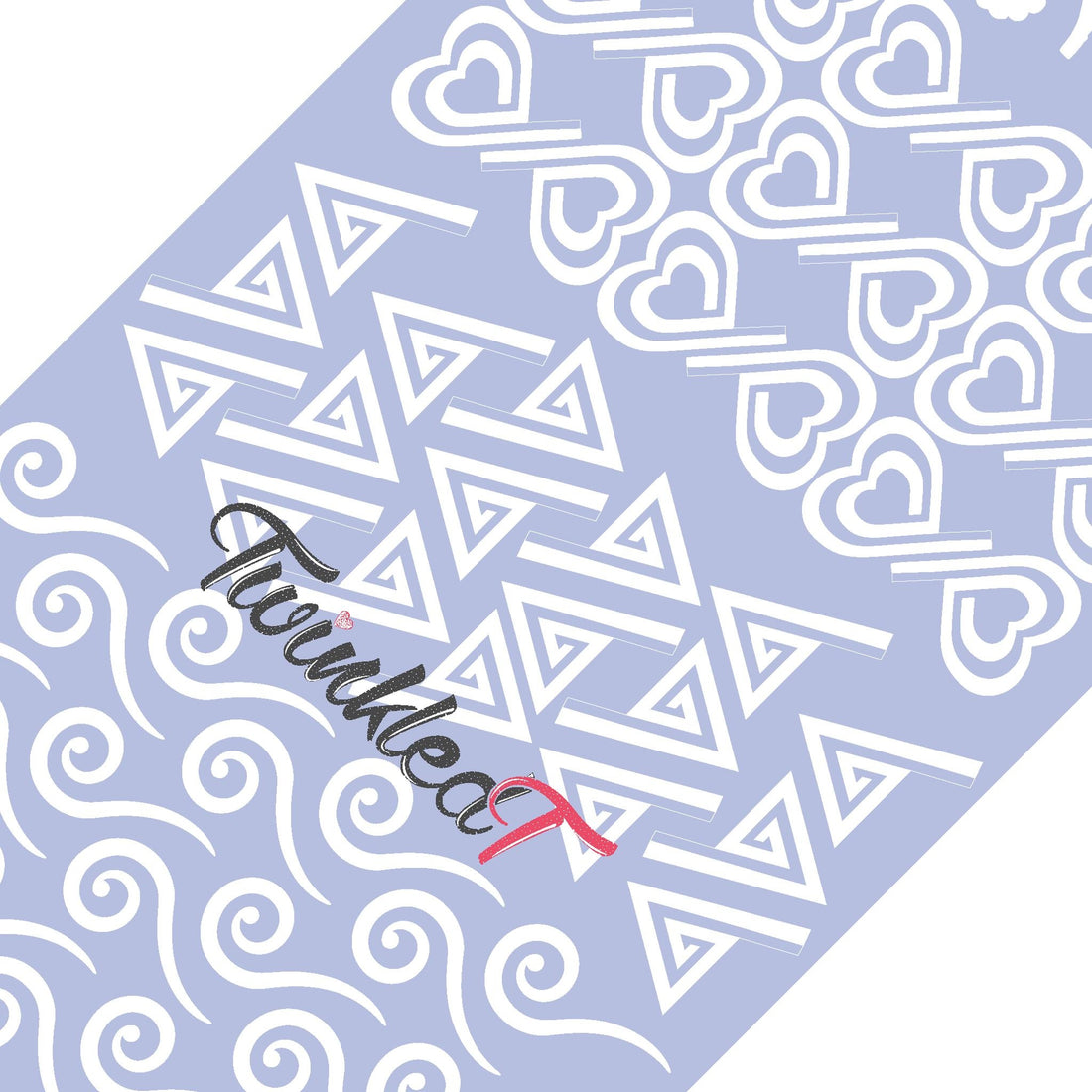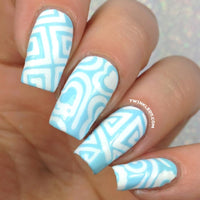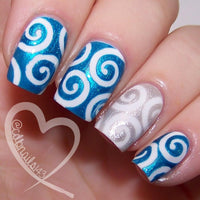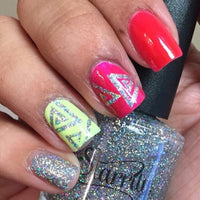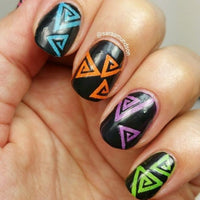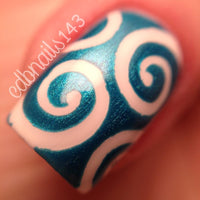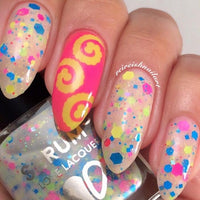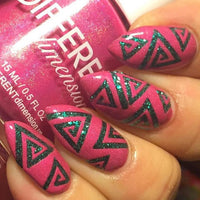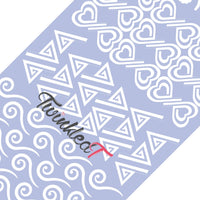 Swirl Vinyl Variety Sheet
Each sheet comes with 125 Variety Swirls. 21 Swirls, 36 Heart Swirls, 36 Triangle Swirls, 20 Square Swirls, and 12 Paisley Swirls.
The Twinkled T Variety Vinyl Sheet is your best possible choice if you'd like to try multiple vinyls but want to budget yourself as best as you can!
All nail vinyls are handmade by the Twinkled T sisters in Los Angeles, CA.

Directions
1. Begin by painting your choice of base polish onto your nails.
2. Once thoroughly dried, paint a coat of clear, fast-drying topcoat onto your nails.
3. Once thoroughly dried, use tweezers to lift nail vinyl off its sheet and place onto your nail.
4. Apply your second choice of polish over the nail vinyl.
5. While the nail polish is still wet, remove your nail vinyl from your nail.
6. Add a topcoat and show off your gorgeous new manicure!

Tips
- Your nail vinyl order will include a special Twinkled T packaging to take your nail vinyls on the go!
- Tips and tricks for using nail vinyls can be found here.
- Use tweezers to lift your vinyls. The oils of hands will remove the sticky residue from the vinyl.
- Remove the nail vinyl while the polish is still wet. Once the polish begins to dry, it will create a stringy and clumpy effect of polish when removing the vinyl.


Video
Easy to use even together!
Both products are way easier to use than I thought. Especially the smaller shape vinyls! And the stamper.... best In my whole collection!! I love putting my nail powders on it and I dont make a mess! I'm uber happy w my products!
Love
I have very short nails and these smaller vinyls make it easier to show a beautiful design with multiple colors. Very easy to use just like the other ones and I can get really creative with my short nails instead of putting on my fake nails.
Old people like nail art too, lol
To be clear, I love the swirly vinyls. They work great and look fantastic, but this time the decals were printed on white paper. I needed a book light and my glasses to find the edge of the decal, lol.
Love the idea
These are great nail vinyls they did their job admirably. However, I am not a fan of the sheet being all black. It is nearly impossible for me to see the seam of the vinyl because the entire sheet is black. I ruined more than a couple of vinyls just trying to take them off the backing because it was so hard to see what was vinyl and what was backing. To be honest I'm not sure I want to order more for that reason.
Very Pretty
These are very pretty nail vinyls. I messed up the first one because I didn't have any part of the swirl hanging off the nail, which makes it hard to pull it off! Definitely recommend though.
Let customers speak for us