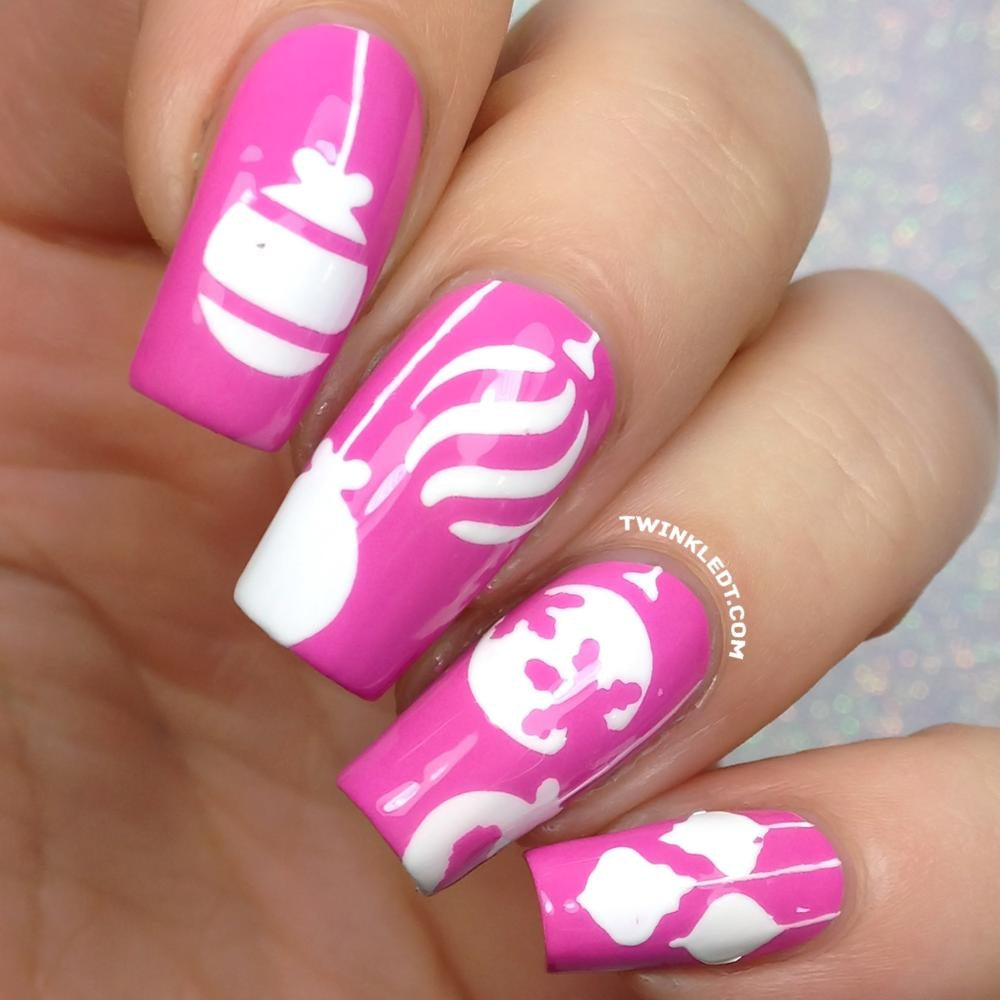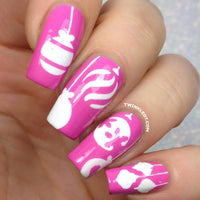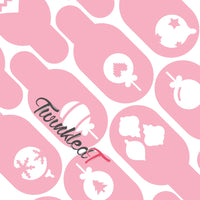 This sheet contains 24 stencils and 24 decals.
All nail vinyls are handmade by the Twinkled T sisters in Los Angeles, CA.
Directions
1. Begin by painting your choice of base polish onto your nails.
2. Once thoroughly dried, paint a coat of clear, fast-drying topcoat onto your nails.
3. Once thoroughly dried, use tweezers to lift nail vinyl off its sheet and place onto your nail.
4. Apply your second choice of polish over the nail vinyl.
5. While the nail polish is still wet, remove your nail vinyl from your nail.
6. Add a topcoat and show off your gorgeous new manicure!

Tips
- Your nail vinyl order will include a special Twinkled T packaging to take your nail vinyls on the go!
- Tips and tricks for using nail vinyls can be found here.
- Use tweezers to lift your vinyls. The oils of hands will remove the sticky residue from the vinyl.
- Remove the nail vinyl while the polish is still wet. Once the polish begins to dry, it will create a stringy and clumpy effect of polish when removing the vinyl.

Fun & Easy!
These are so cute. I am new to vinyls and nail art but I have had a blast playing with these. I've decorated some of the ornaments with rhinestones and it was very festive. These vinyls are easy to use and create crisp designs.
Love
I love the way they look on the sheet but I haven't used them yet but when it becomes Christmas time I plan on using them.
Amazing
I love the vinyls… They are beautiful and easy to use… I Love them. <3
Cute but...
They were cute and exactly what the website pictured them as, but they were far too big for my nails. I guess that's my fault but I just wish they came in smaller sizes so I could fit a whole Ornament on my nail. It wasn't even that my nails were too short, my nails are average length, but the fact that they also were not wide enough to fit them comfortably.
These are the best vinyls
These are the best vinyls I have ever used!
Let customers speak for us