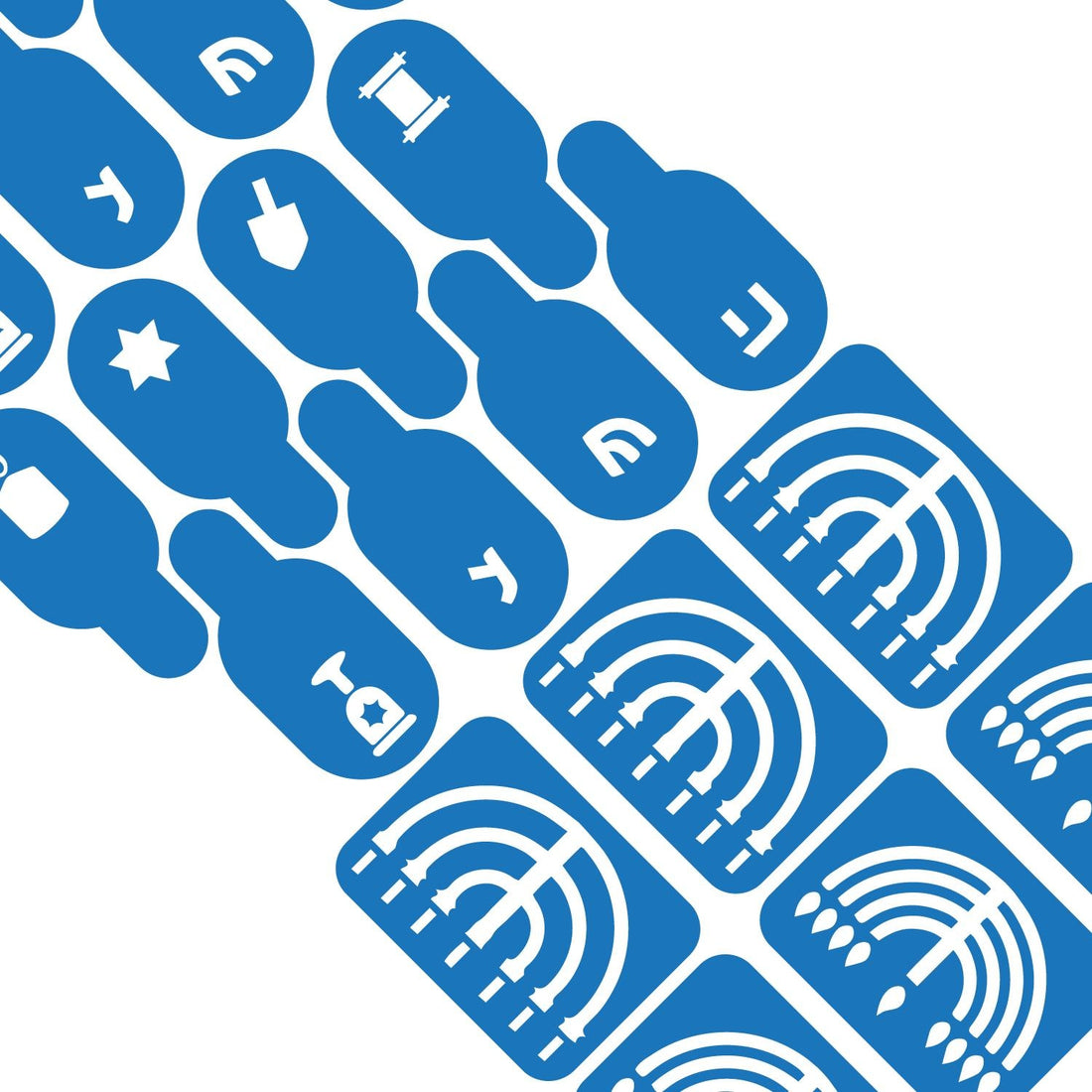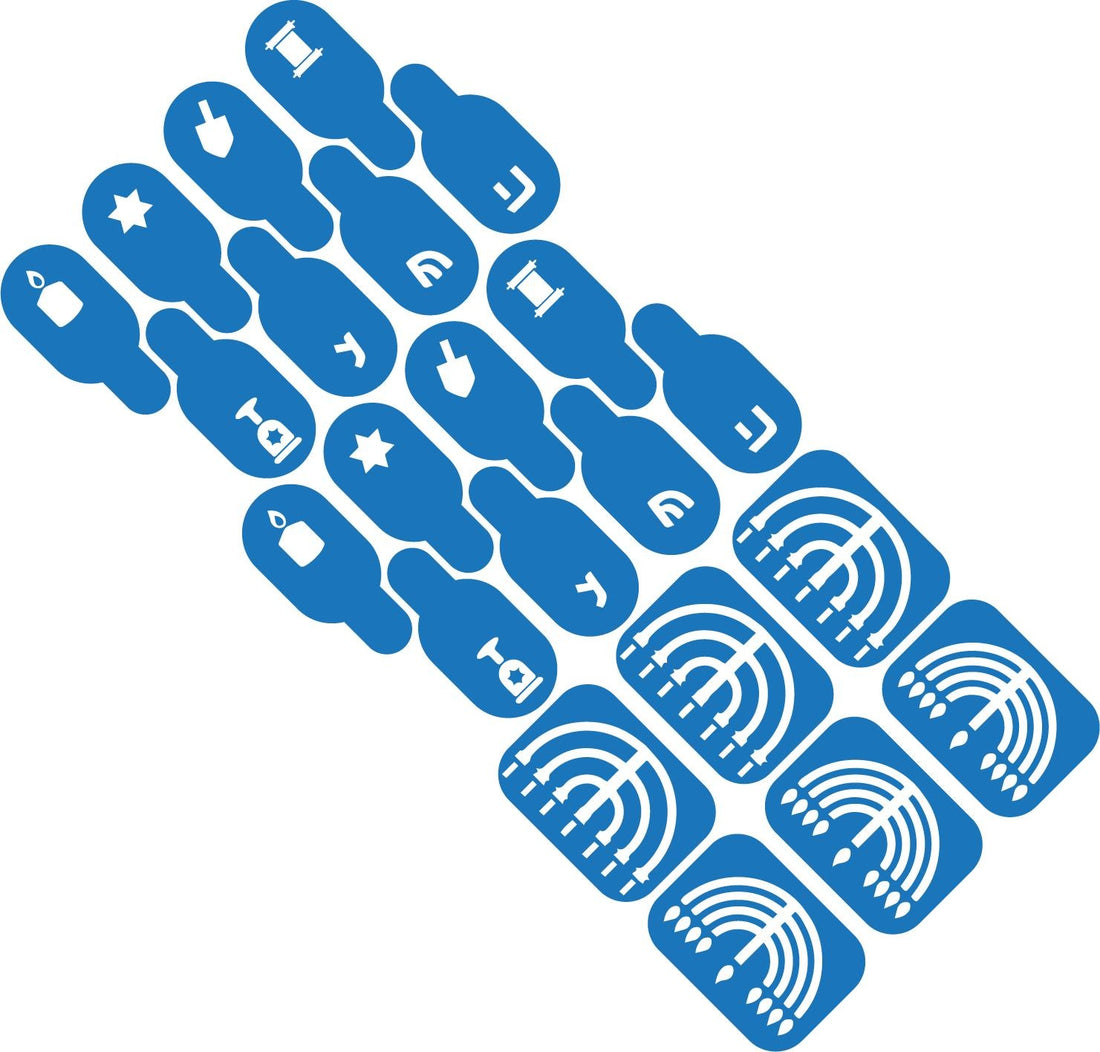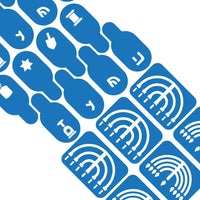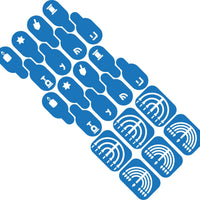 This sheet includes 16 Hanukkah shape stencils and 6 menorahs.

All nail vinyls are handmade by the Twinkled T sisters in Los Angeles, CA. We design, print, and cut all our Twinkled T nail vinyls!

Directions
1. Begin by painting your choice of base polish onto your nails.
2. Once thoroughly dried, paint a coat of clear, fast-drying topcoat onto your nails.
3. Once thoroughly dried, use tweezers to lift nail vinyl off its sheet and place onto your nail.
4. Apply your second choice of polish over the nail vinyl.
5. While the nail polish is still wet, remove your nail vinyl from your nail.
6. Add a topcoat and show off your gorgeous new manicure!

Tips
- Your nail vinyl order will include a special Twinkled T packaging to take your nail vinyls on the go!
- Tips and tricks for using nail vinyls can be found
here
.
- Use tweezers to lift your vinyls. The oils of hands will remove the sticky residue from the vinyl.
- Remove the nail vinyl while the polish is still wet. Once the polish begins to dry, it will create a stringy and clumpy effect of polish when removing the vinyl.
Love them but the Hebrew letters are backwards
Love the Hanukkah vinyls but the menorahs are kind of useless as they are giant and the Hebrew letters are actually printed backwards.
Beautiful!
I've been eagerly waiting for the chance to use these vinyls and I'm thrilled with how my nails turned out. I had a lovely exchange with the Twinkled T sisters and they tweaked an already great product to make it even better. I probably should have cut the menorah into two rather than 3, but that's on me!
Highly recommend these to anyone looking to do Hanukkah nail art.
Bought as a Hanukkah gift
I agree with the first reviewer that the menorah vinyls are too big to use on the nails. I wondered the they purpose of them were due to large their size. The other vinyls are a nice variety and "normal" size.
It would be cool if they were cut or divide the menorah vinyl in a way that a new candle could be added for each day of Hanukkah. (Either two candles per nail or one candle per nail.)
Thank you for adding a Hanukkah option. I look forward to seeing what other holiday vinyls that will be created in the future.
I love these
It's so great that you included Hanukkah vinyls in your holiday collection this year. I'm excited to give them a try, however I took off one star because the menorahs are huge and I can't see any way to use them on my nails which it's a sad thing cause they are so well done. Am I a dummy and just missing something obvious? Please tell me cause I would love to rock the menorahs for Hanukkah this year!!!
Let customers speak for us