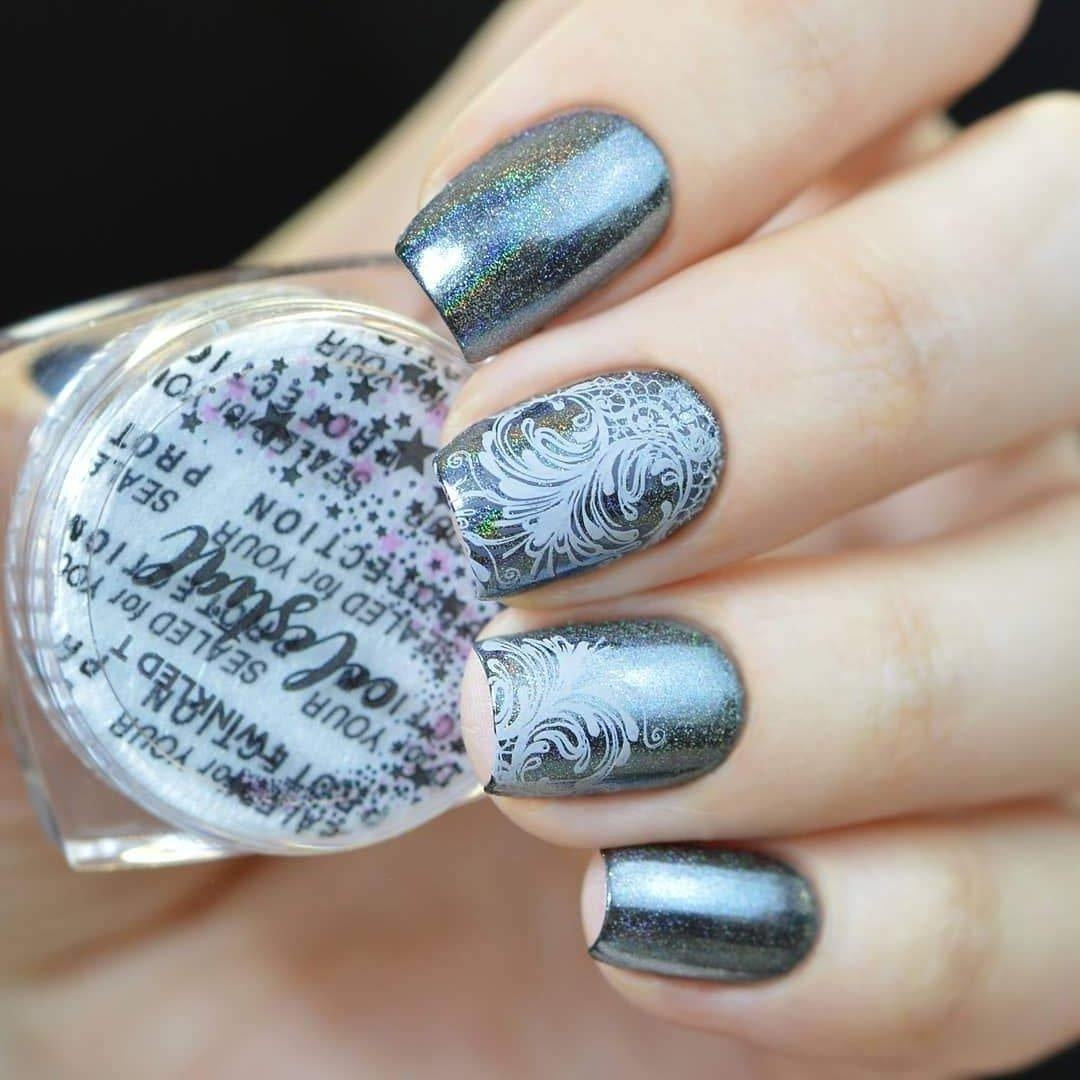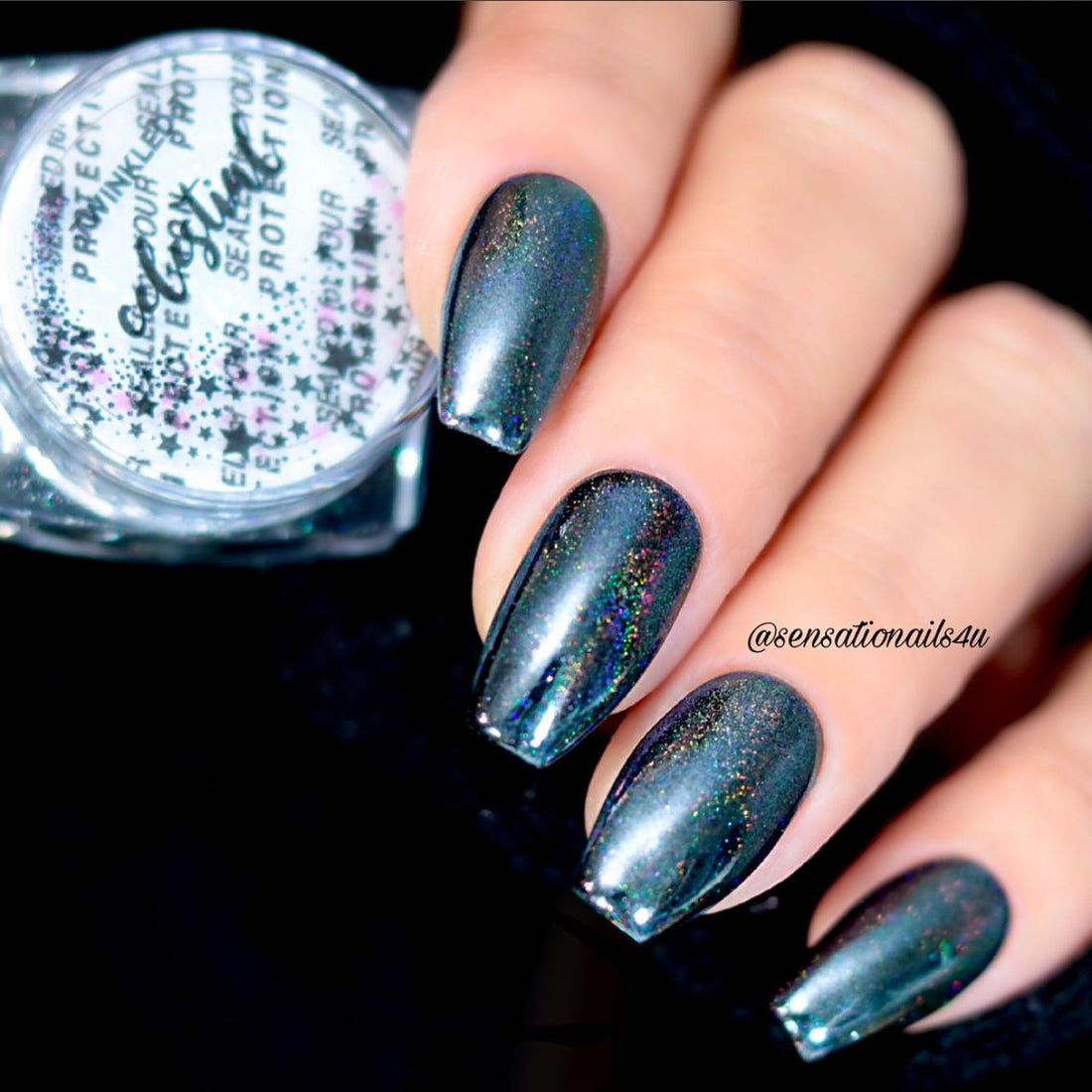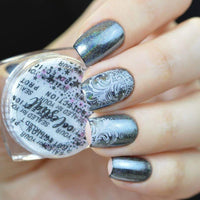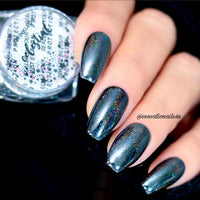 Hypnotize the world with a shifting rainbow on your nails. Our holographic powder is the greatest quality you could discover! In order to achieve the results shown in the photo, the powder must be applied over a black base 
Weight: .5 gram of product in a 1 gram jar
Grain: 20 micron
Directions for Use:
1. Paint on your base color.
2. Apply a no-wipe gel topcoat.
3. Flash cure your top coat. 10-30 seconds, depending on your lamp wattage.
4. Lightly sprinkle your powder over the entire nail. You may also dip your fingernail directly into the pot.
5. Once the nail is covered, begin rubbing the powder in using either the Twinkled T Silicone Tool, a foam applicator, or your fingertips.
6. Apply another gel top coat and cure to seal your powder in!
Doesn't Stick??
I was using my fingers because I don't have a silicon tool... for some reason, the powder wasn't sticking to the top coat. I tried breathing on it to make it more sticky, which helped a little, but after 30 seconds or so (maybe less), I gave up and used the super nova powder, which worked just like the picture IMMEDIATELY. Which was too bad, I really love a black mirror finish, and I was excited about the classy, subtle holographic flair that the picture is promising.
I guess I could've been more persistent and it might've worked with some more effort, I'm pretty sure it wasn't ME because the other powder worked GREAT with ZERO effort.
It was so nice to watch twi-star's YouTube videos about twinkled t, I wish there was a video like that to demonstrate how to do this properly and let me know if it's different from the other powders (I've got a lot of them! The multi chrome and the super noba/twilight/etc powders all work great! I'm not sure what to do here!)
Love love the product and the company
Easy to use and beautiful color
so pretty!
i patted a few of the crushed holo flakes on top; when i shine the flashlight on my phone over my hands, it looks like the picture, if the rainbow flair isn't even *stronger*, with the flakes on top - it's so pretty, i cannot EVEn
i painted my nails with a sticky base coat, black creme polish and a regular quick dry top coat first. after a few hours, once everything was dry, i used a no-wipe gel top coat and a lamp, applied the powder and then the flakies, added another no-wipe gel top coat and the polish stuck with me for a week and a half, looking perfect the whole time, until i peeled it off (yeah, inno i should've used nail polish remover, but enough layers of top coat does smooth out the bumps that the surfaces of my nails get from the damage that peeling off the polish does
Let customers speak for us